Orchestral Presence until the Subcontra F
Gazing at the extra black keys of this Bösendorfer Grand the pianist immediately realises that this instrument is far from ordinary. This Grand Piano – like the bigger brother 290 Imperial – has been crafted dedicating to the tradition of Viennese piano building. With its unique design and size this piano delights by an exceptional multitude of colours similar to an orchestra. Delicately fragile pianissimo to brilliant fortissimo, this Bösendorfer Grand sways the audience – down to the Subcontra F. These additional bass notes do not only enrich the tonal volume of the instrument, but subsequently paint additional sound colours and open up an orchestral sound spectrum. This unique sonic presence in all registers is the sound basis of the popularity of the Bösendorfer 225 as chamber and solo instrument.
A presence which leaves no audience unmoved.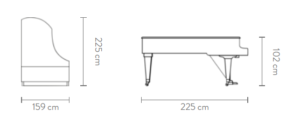 Elegant black, polished ebony, stylishly matt, or gleamingly blue – we are crafting your piano according to your imagination, adding captivating colour to the tone. The exclusive production of close to 300 instruments per year allows us to meet
us to meet your individual requests. Whether you would like to apply precious veneers, your favourite colour or an emblem designed by yourself carefully engraved by master artisans: Anything is possible. Our Bösendorfer
Artisans will prepare a colour sample, before we start production and collaborate with you on your design. After your approval, your very own, unique instrument is crafted: An instrument as extraordinary as you are.